IT'S A FAMILY THING!
Oneto Metal Products Corp. wishes to publicly acknowledge the dedication and commitment of its employees, some of whom joined the "Oneto family" at or shortly after its conception in 1980. The senior management team appreciates the vast productivity, creativity, and loyalty of its employees. We hope to continue to work and prosper together, so we may add more generations to our unique "Oneto family."

THANK YOU!!!
Our employees are featured in photographs throughout this site as they perform their normal production specialties.

Mr. Raymond Liberatore, President, entered the sheet metal industry in 1964. At age thirteen, he began by working for his father at Oneto Manufacturing Co. in So. San Francisco. He completed advanced degrees in mathematics and business administration. In 1980, he moved to Sacramento and established ONETO Metal Products. Raymond's experience in training enable ONETO to produce many special and complex products using a variety of tools and processes.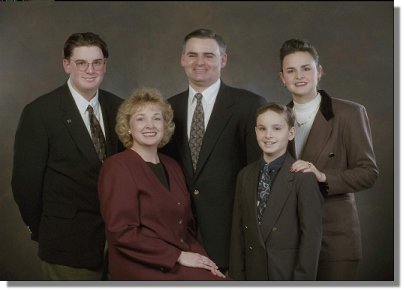 ABOVE: Taken in January, 1996, clockwise from upper left: Joseph Raymond Liberatore, graduated from Santa Clara University in June 2000, after attending Jesuit High School in Sacramento, former part-time production employee, now an up-and-coming contributor to the Silicon Valley information technology industry; Raymond Liberatore, President, see above; Catherine Marie Liberatore, Controller, see below; Patrick Raymond Liberatore, part-time clerk, attends Jesuit High School in Sacramento; Terrel Ann Liberatore, Corporate Officer, married Raymond Liberatore in 1970 after completing her education at the University of California at Santa Cruz where she met Raymond. Together, Ray and Terrel worked and sacrificed for many years to build a sound corporation that strives to provide quality products to its customers at competitive prices to support the ever-growing "Oneto family."

Photo taken and furnished for reproduction by Jensen Photography, Sacramento, CA.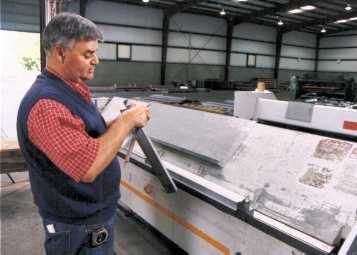 Ray prefers to work in the shop, rather than in the office. He can often be found with his calipers at one of our two CNC RAS folders.


Mr. Paul T. Liberatore, the youngest of Raymond's eight siblings, joined the management team of Oneto Metal Products Corp. in 1998. As his oldest brother before him, Paul's career in sheet metal began in his father's facility in South San Francisco and continued for several years after graduating from the University of Arizona. Paul moved to the Sacramento Valley with his wife and children to help Oneto Metal Products expand its productive capacity. Paul's extensive experience with "CAD" software allows Oneto to continuously increase its precision and customization capabilities. Furthermore, Oneto appreciates Paul's dedication to the long-term growth and prosperity of the corporation, as well as his phenomenal energy and personable nature.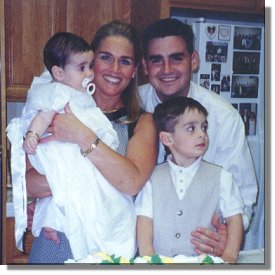 ABOVE: Counterclockwise from upper right: Paul Thomas Liberatore, Manager, see above; Jodi Liberatore, originally from Visalia, California, married to Paul since 1992, formerly lived and worked in Palo Alto, California while Paul worked for Oneto Manufacturing Co. in South San Francisco, relocated to Elk Grove, California, with Paul and their son in 1998; Lauren Alexis Elizabeth Liberatore, God-daughter of Ray & Terrel, born October 1999, shown here on the day of her baptism; Zachary Galvin Liberatore, frequent visitor to Oneto to share lunch with Dad and Uncle Ray (when not in pre-school), born July 1996.
[Snapshot provided by Paul T. Liberatore.]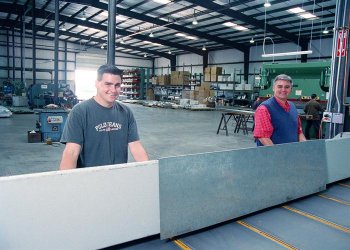 Right to Left: Ray and Paul, the "RAS Brothers"


Mr. Frank Yearsley manages Oneto's demanding shipping and receiving schedules, as well as its inventory control. He joined the Oneto "family" in August 1984. Frank's patient temperament and friendly character help Oneto strive to offer its customers an extensive line of fabricated sheet metal products with rapid availability and a friendly face.

Miss Catherine M. Liberatore, Controller, is the oldest of Raymond's three children and the oldest of Paul's eighteen nieces and nephews from the ever-expanding Liberatore family. After graduating from Loretto High School in Sacramento, she attended Duquesne University to complete studies in the performing arts, an M.B.A., and several years of work experience in the financial and information technology industries. Catherine permanently relocated back to Sacramento to return to the family business in which she worked sporadically from the age of fifteen. Catherine's primary responsibility at Oneto is, "to keep Dad from being buried alive by paperwork."
---
Yes, we work hard, but we can play even harder!