Please direct all correspondence to:

Oneto Metal Products Corp.
P.O. Box 293239
Sacramento, CA 95829-3239
Physical location:
Oneto Metal Products Corp.
7485 Reese Road
Sacramento, CA 95828
(916) 681-6555 phone
(916) 681-6565 fax
gammon@onetometal.com

Click icon for driving directions and map

Hablamos español!

Standard shipping & receiving hours: 7:00 A.M. to 4:00 P.M.
Please call first, so we may prepare for your arrival.
We will do our best to accommodate customers' needs for special shipping & receiving hours upon request. Please call Frank Yearsley at 916-681-6555 for details.

Please let us know if you need your order delivered.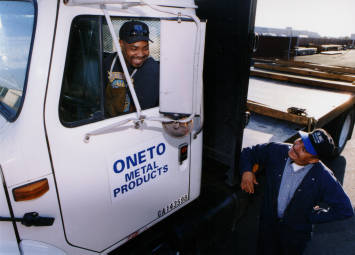 ABOVE: Oneto's truck drivers, (seated in cab) Randy Grant (1984) and Jose Anselmo Huerta (1981) prepare to make a California delivery in one of Oneto's two trucks. Many Oneto customers take advantage of our delivery service,while others make commercial trucking arrangements.

Please contact Frank Yearsley at 916-681-6555 to inquire about shipping options.
Please contact us via phone, fax, and/or drop-in visit for initial QUOTATIONS AND/OR PURCHASE ORDERS.

Note:

We will gladly establish a cyber relationship with any customers who wish to do business via email, but we require an initial discussion or reception of a faxed drawing. Should you request to do business via email, we may request a test email transmission to ensure that your emails will arrive in tact and in a compatible file format.
Oneto Metal Products Corp. specializes in meeting customers' unique fabricating needs, and we don't want to miss a valuable opportunity to establish more personal customer relationships. We may be able to make valuable suggestions to help meet your production needs.
Please give us a chance!