Oneto Metal Products Corp., established by Raymond Liberatore in 1980, manufactures fabricated sheet metal products to customers throughout California, the entire western United States, and beyond. The corporation (pronounced "oh-NEE-toh") continues to grow and evolve with the ever-changing demands of the construction and steel industries.
Capabilities: We fabricate products from the following materials: galvanized steel, carbon steel, stainless steel, aluminum, copper, zinc, Corten steel, Redi-Kote, pre-painted galvanized steel, and pre-painted aluminum.

Architectural sheet metal

Industrial sheet metal

Flashing for all types of roofing

Trim for metal roofs & buildings

Accessories for metal studs & metal decking

All types of custom sheet metal products (excluding automotive parts)

If you require fabricated sheet metal products, no matter how unique, chances are very good that we can accommodate your customized production needs!!! Please call, fax or email us a drawing. We would be glad to discuss your sheet metal needs.

Tour our FACILITY: 46,000-square-foot manufacturing facility in Sacramento, California, conveniently accessible from Highway 99.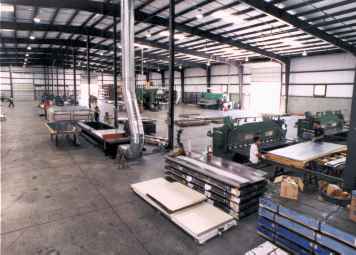 Oneto Metal Products Corp.
7485 Reese Road, Sacramento, CA 95828
Our Machinery

: Learn about our

CNC plasma cutter

CNC press brakes

, shears,

CNC folders

, and machines dedicated to notching, coping, and punching, plus a coil processor, and an iron worker.

Originally offering only standard sheet metal products (valley metal, nosing, z-bar, etc.) to roofers, resellers, and general contractors, the company now offers a wide variety of sheet metal fabrication capabilities. As well as tried and true products, such as flashing, roof jacks, and gravel stop, Oneto now produces many specialty architectural sheet metal and custom sheet metal items.

Our management team spends much of its time collaborating with customers to design fabricated sheet metal products to meet their unique fabricating needs. Since 1998, Oneto Metal Products Corp. took several bold steps to bring sheet metal fabrication in the Sacramento Valley into a new era. Oneto Metal Products Corp. now performs extensive design and modification work using computers and specialty software, including CAD files. Additionally, Oneto recently added a CNC plasma cutter with a 20-foot-long table. Please tour our facility to view our new state-of-the-art building and machinery.

Oneto Metal Products Corp. is truly a family business. Not only is the corporation owned and operated by members of the Liberatore family, but the "Oneto family" continues to grow over the years. Since Oneto Metal Products Corp. opened its doors in 1980, we've adopted new "relations" over the years. Some of our employees joined us at the beginning, and still more contributed five to fifteen years of dedicated service. Raymond Liberatore, President, hopes this "family" continues to grow and prosper for many more generations. Please visit our Our Team page to learn more about us.
Hablamos español.